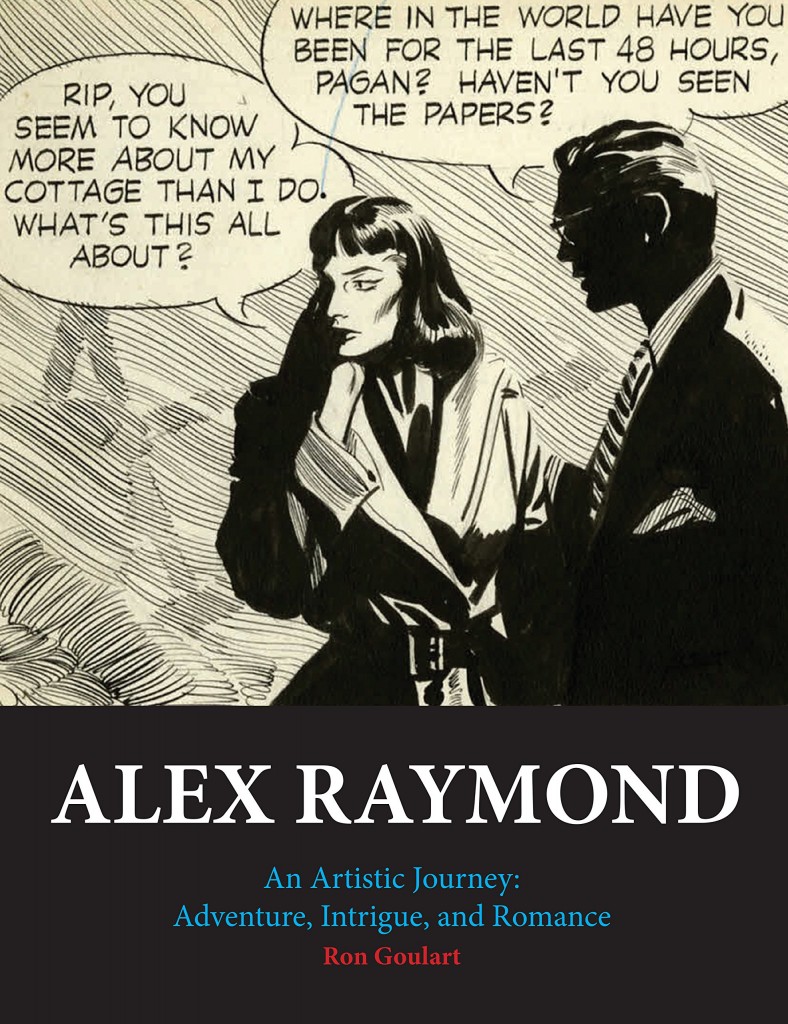 Halløj dér! Og velkommen til endnu en forpustet, sidste-øjebliks Previews Pluk.
Alex Raymond er navnet, vi skal se nærmere på i denne måneds opspyt. Alex Raymond er en Panteon tegner, om nogen! Hans banebrydende sf serie, Flash Gordon, er mig bekendt den eneste kontinuitetsstrip, der er blevet genoptrykt i sin helhed fire gange, Kitchen Sink, Checker, IDW, og nu også Titan. Så der er absolut INGEN undskyldninger for ikke at have samlet denne serie endnu. Mangler den i samlingen, er det skamfuldt. Og så er det vel ikke engang mesterværket, det må være detektivserien Rip Kirby, som Raymond tegnede på til sin alt for tidlige død i 1956. Rip Kirby er skoleeksemplet på fotorealisme, og så har jeg endda fået at vide, at det er et forkert begreb, men hul i det, sådan har jeg læst stilen beskrevet overalt, så vi holder os til fotorealisme. Sidst vi fik en kaffebordsbog om Raymond var tilbage i 2008, "Alex Raymond: His Life and Art", en tyk sag fra det lille forlag Adventure House. En sag, der står i $125 brugt nu! Så må $75 siges at være yderst rimeligt for den spritnye kaffebordsbog, "Alex Raymond: An Artistic Journey: Adventure, Intrigue and Romance", en fyldestgørende monografi af den berømte historiker Ron Goulart, med over 400 billeder, mange scannet fra Raymond's originaler! Anledningen er, at King Features Syndicate runder de 100 år, og de får så også en hyldestbog med i Previews. Raymond bogen er i overstørrelse og i farver, fra det kendte oldies forlag, Hermes Press. Det er månedens højdepunkt, og det dækker hele Raymond's karriere, inkl. reklametegninger. Guf i lange baner!
Uret tikker ubønhørligt, og vi iler videre til alt det andet stads:
MARVEL

marvel masterworks: daredevil vol.10 hc – gene colan, don heck, rich buckler, jim starlin, o.a.
silver surfer epic collection: freedom tpb – john byrne, marshall rogers, jack kirby, john buscema, o.a.
DARK HORSE

the goon in theatre bizarre one-shot – eric powell
nexus: into the past and other stories tp – steve rude
groo: friends and foes #10 – sergio aragonés
IDW

walt disney's comics & stories: 75th anniversary special – william van horn, walt kelly, al taliaferro, paul murry, al hubbard
mickey mouse #5 – bill wright
walt disney's comics & stories #724 – daan jippes
mickey mouse: the mysterious crystal ball – manuel gonzales, paul murry
haunted horror #19: special halloween issue – alex toth o.a.
popeye classics #39 – bud sagendorf
ghosts and girls of fiction house! – matt baker o.a.
the complete voodoo vol.1 – matt baker, the iger shop
gil kane's undersea agent – gil kane
IMAGE COMICS
AC COMICS

crypt of horror #27 – kirby, powell, meskin, ayers, ditko, o.a.
golden age greats spotlight vol.17 sc – dick ayers o.a.
DRAWN & QUARTERLY

killing and dying hc – adrian tomine
walt & skeezix vol.6: 1931-1932 hc – frank king
FANTAGRAPHICS BOOKS

cheech wizard's book of me – vaughn bodé
the book of underworld – kaz
the complete peanuts 1997-1998 – charles m. schulz
the complete wimmen's comix – trina robbins o.a.
FIRST SECOND

omaha beach on d-day june 6 1944 hc – séverine tréfouël, dominique bertail
HERMES PRESS

alex raymond: an artistic journey: adventure, intrigue and romance hc – ron goulart
PS ARTBOOKS

roy thomas presents: planet comics vol.12 hc – murphy anderson o.a.
SELFMADEHERO

hysteria: graphic freud gn – oscar zarate
VALIANT ENTERTAINMENT

rai #11 – clayton crain
archer & armstrong: the complete classic omnibus hc – barry windsor-smith o.a.
BØGER

only what's necessary: charles m. schulz and the art of peanuts hc – chip kidd
MAGAZINES

comics revue presents october 2015