Her er så forgangen måneds Previews Pluk, postet i ellevte time, beklager forsinkelsen, men tiden er bare skredet for mig her på det sidste.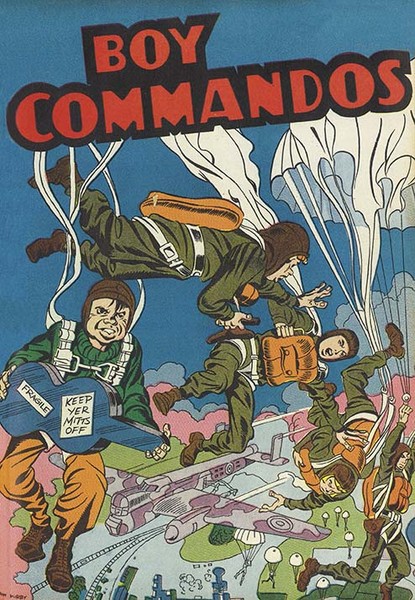 Hvorom alting er, der er særlig grund til at fejre DC Comics, som ellers har fået drøje hug herfra pga deres totale forsømmelse af oldies genoptryk. Just som man var ved helt at opgive dem, får de endelig, endelig, endelig fingeren ud i juni: guld, sølv, og bronze i dejlige hc'er. Største overraskelse må være Simon og Kirby's The Boy Commandos vol.2 i farver og hc, til den absolut fornuftige pris af $50! Det er flere år siden, at vol.1 udkom, og jeg havde egentlig ikke troet, at de ville gå videre, men her får vi den sgu', flotteste genoptryk af GA historier fra The Boy Commandos #3-5, World's Finest Comics #10-13, og Detective Comics #74-83, 85! Pudsigt nok har amazon ikke listet den endnu, de plejer ellers at være på forkant. Boy Commandos var bare den mest populære af Simon og Kirby's "kid gang" serier fra golden age, så populær, at den gik fra back-up i Detective Comics til hovedserie i World's Finest, og endelig i egen titel. Boy Commandos var ren propaganda, og Kirby åbnede sine sider op som aldrig før, dengang i 1942! Kirby var inspireret af film i fortælleteknik og layouts, ja, for filmmediet var selv i rivende udvikling under krigen.
Og nu videre til alt det andet guf:
MARVEL
star wars: lando #3-4 (af 5) – alex maleev
marvel masterworks: the amazing spider-man vol.17 hc – ross andru
DARK HORSE
the fifth beatle: the brian epstein story tp – kyle baker
groo: friends and foes #8 – sergio aragonés
the savage sword of conan vol.20 tp – john buscema, ernie chan, o.a.
eerie archives vol.20 hc – diverse
crime does not pay archives vol.10 hc – charles biro, jack cole, bob fujitani, fred guardineer, george tuska, o.a.
bob powell's complete jet powers hc – bob powell
DC COMICS
the boy commandos by joe simon and jack kirby vol.2 hc
IDW PUBLISHING
walt disney's donald duck: the daily newspaper comics vol.1 hc – al taliaferro
uncle scrooge #5 – freddy milton
walt disney's comics & stories #722 – freddy milton, al taliaferro, o.a.
mickey mouse #3 – paul murry
beyond mars – lee elias
haunted horror #18 – diverse
popeye classics #37 – bud sagendorf
IMAGE
savior #5 – clayton crain
CLASSIC COMICS PRESS
leonard starr's mary perkins on stage vol.14: 1975-1977 tp
FANTAGRAPHICS BOOKS
the eternaut – héctor germán oesterheld og francisco solano lópez
invisible ink: my mother's love affair with a famous cartoonist!! – bill griffith
FLESK PUBLICATIONS
mark schultz: portfolio: the complete various drawings tp
HEAVY METAL MAGAZINE
heavy metal #276 – jack kirby o.a.
HERMES PRESS
johnny hazard dailies vol.4: 1949-1951 hc – frank robbins
the phantom: the complete dailies vol.9: 1949-1950 hc – wilson mccoy
PAPERCUTZ
the smurfs and friends vol.1 hc – peyo
PS ARTBOOKS
pre-code classics: witchcraft hc – mort meskin, joe kubert, everett kinstler, o.a.
VALIANT ENTERTAINMENT
MAGAZINES
comics revue presents august 2015
jack kirby collector #66