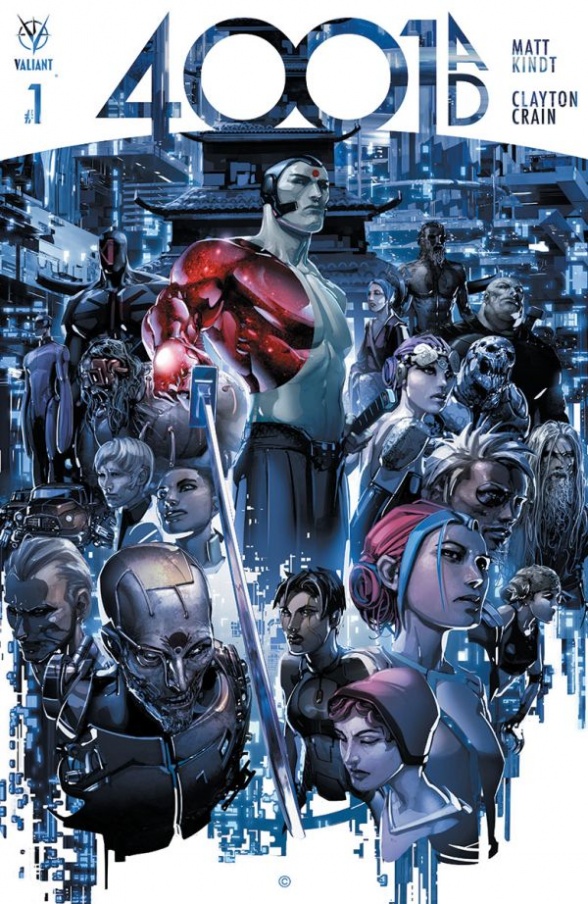 PREVIEWS PLUK FOR MARTS 2016
Så er vi nået til marts måned i gennemgangen, og et hurtigt kig i kataloget får mig til at konstatere, at marts er så'en en meget "business as usual" måned uden de helt store, skelsættende begivenheder: alt er som det skal være, vigtige genoptryk får nye tilføjelser, selveste Peanuts Dailies bliver endelig afsluttet, de nye Classics Illustrated kører upåklageligt, og jeg må faktisk ty til et beskedent slaskeblad fra Valiant for at fremhæve een enkelt ting af hot nyhedsværdi. I bedste Big Two tradition vil det lille forlag Valiant osse have deres helt egen store crossover begivenhed, anført af en helt ny bladserie, "4001 AD", en mini serie over fire numre, der skal  sammenkøres med diverse andre titler, hvis man hopper på den med at få den helt store, forkromede historie. Lad mig med det samme sige, jeg har aldrig, og jeg gentager, jeg har aldrig nogensinde købt samtlige tie-ins i nogen crossover, ikke engang til den første, "Secret Wars" fra Marvel, tilbage i 1980'erne. Jo, jeg købte da nogle få hæfter, men jeg nægter simpelthen at falde for dette købmandstrick, og siden har jeg i næsten alle tilfælde bare ignoreret disse tie-ins, ja, faktisk har jeg ignoreret de fleste crossovers, da de stinker af fæl spekulation. Jeg ville da heller ikke fremhæve den nye "4001 AD", hvis ikke den var tegnet af Valiant's pt stærkeste kort, den nye superstjerne Clayton Crain. Alt fra hans hånd er bare RED HOT! Men man behøver ikke andet end denne mini serie for at få essensen af historien.
Fra pressemeddelelsen:
In the tradition of BOOK OF DEATH, ARMOR HUNTERS, and HARBINGER WARS, Valiant's most ambitious crossover event yet starts here! At the dawn of the 41st century, the future of Earth will be decided in the stars. This May…the rebellion begins in 4001 A.D.!
Valiant is proud to present your first look inside 4001 A.D. #1 (of 4) – the FIRST ISSUE of the summer's blockbuster event series from New York Times best-selling writer Matt Kindt (DIVINITY, NINJAK) and superstar artist Clayton Crain (RAI, X-Force)! Be here this May as the fallen guardian of New Japan – Rai – drafts the 41st century's most powerful heroes into a star-spanning battle for the ultimate fate of the Valiant Universe!
MARVEL

scarlet #8 – alex maleev
scarlet #9 – alex maleev
shang-chi: master of kung fu omnibus vol.2 hc – paul gulacy, sal buscema o.a.
marvel masterworks: the fantastic four vol.18 hc – sal buscema, john buscema o.a.
spider-man: tombstone vol.1 tpb – sal buscema
DC COMICS

swamp thing #5 – kelley jones
superman: the coming of the supermen #4 – neal adams
IDW

donald duck #13 – al hubbard o.a.
mickey mouse: timeless tales vol.1 – bill wright, paul murry o.a.
uncle scrooge #14 – al hubbard o.a.
popeye classics #46 – bud sagendorf
weird love: i joined a teen-age sex cult – bob powell, george evans o.a.
weird love #12 – various
the complete chester gould's dick tracy vol.20: 1961-1962
AC COMICS

crypt of horror vol.29 sc – kirby, toth, powell, ayers, ditko, wildey, torres, maneely, andru, o.a.
CANTON STREET PRESS

chamber of chills #19 replica edition – lee elias, bob powell
moon girl #4 replica edition – sheldon moldoff
CLASSICS ILLUSTRATED

classics illustrated: ben-hur tp – joe orlando
classics illustrated: black beauty tp – l.b. cole o.a.
classics illustrated: a tale of two cities tp – george evans, joe orlando
CONUNDRUM PRESS 
paul up north gn – michel rabagliati
DYNAMITE ENTERTAINMENT

vampirella archives vol.14 hc – esteban maroto o.a.
FANTAGRAPHICS BOOKS

the complete peanuts 1999-2000 – charles m. schulz
barnaby vol. 3 – crockett johnson
HERMES PRESS

terry and the pirates: the george wunder years vol.3: 1949-1950 hc
VALIANT ENTERTAINMENT

4001 AD #1 (af 4) – clayton crain
——————————————————————————
GoogaMooga, Serieland 2016