Marvel opper sig lidt i februar måned og lader konkurrenten DC tilbage i støvet.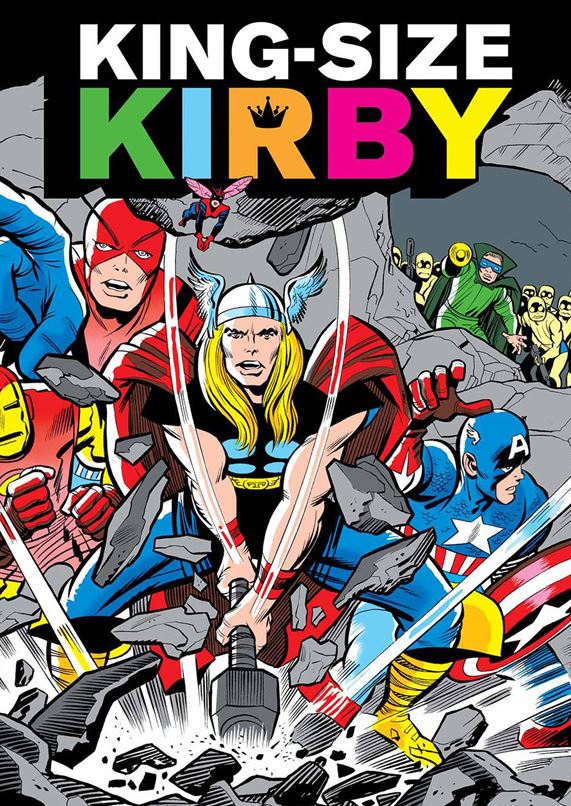 Marvel satser STORT med hvad jeg tror er deres hidtil dyreste genoptryk, en 816 sider moppefed hc i kassette med titlen "King-Size Kirby" til den uoverkommelige pris af 200 smackeroos! Ja, det er altså dollars, og hvis det altsammen var hidtil ikke genoptrykt materiale, ville jeg springe på uden tøven, men spørgsmålet er, om Marvel ikke gør deres fans en bjørnetjeneste med denne kassette, for umiddelbart ser det ud til, at 3/4 af indholdet har været genoptrykt før, endda adskillige gange! Skal man virkelig punge 200 dollars ud for den sidste 1/4, det bliver sådan rundt regnet en dollar pr. side. Er man Kirby fan, er der måske ingen vej udenom, for hvem ved, om sjældenhederne nogensinde bliver genoptrykt igen? Kirby har selvklart fortjent denne kongelige behandling, for han er Kongen af Comics, og Marvel er The House That Jack Built! Ikke desto mindre føler jeg mig som loyal fan lige lovlig snydt her! Jeg venter og ser, om ikke den dukker op brugt eller på tilbud et sted.
Og nu, videre ud i genoptryk:
MARVEL
king-size kirby hc – jack kirby, joe simon, o.a.
avengers: vision and the scarlet witch tpb – don heck & rick leonardi
avengers west coast: vision quest tpb – john byrne
marvel masterworks: the mighty thor vol.14 hc – john buscema, rich buckler, sal buscema, george tuska
DARK HORSE
groo: friends and foes #4 – sergio aragonés
rat god #3 (af 5) – richard corben
the goon: once upon a hard time #3 (af 4) – eric powell
grip: the strange world of men hc – gilbert hernandez
IDW
corto maltese: beyond the windy isles – hugo pratt
haunted horror #16 – diverse
popeye classics #33 – bud sagendorf
michael wm. kaluta sketchbook series, vol.5 – michael wm. kaluta
rip kirby vol.8 – john prentice
tarzan: the original dailies – hal foster, rex maxon
IMAGE COMICS
satellite sam #13 – howard chaykin
AC COMICS
crypt of horror #25 – jack kamen, bob powell, steve ditko, mike sekowsky, o.a.
BOOM! STUDIOS
the realist ogn hc – asaf hanuka
DOVER PUBLICATIONS
sam glazman: a sailor's story gn – sam glazman
DRAWN & QUARTERLY
trash market gn – tadao tsuge
FANTAGRAPHICS BOOKS
harvey kurtzman: the man who created mad and revolutionized humor in america – bill schelly
the complete peanuts 1995-1996 vol.23 – charles m. schulz
cheech wizard's big book of me – vaughn bodé
HERMES PRESS
the phantom: the complete dailies vol.8: 1947-8 hc – wilson mccoy
PS ARTBOOKS
pre-code classics: strange fantasy vol.1 hc – steve ditko o.a.
roy thomas presents rulah: jungle goddess vol.3 hc – matt baker, jack kamen, graham ghastly ingels
TOON BOOKS
the wild piano: a philémon adventure gn – fred
TOP SHELF PRODUCTIONS
knight takes queen: the 2nd knight life collection gn – keith knight
VALIANT ENTERTAINMENT
rai #8 – clayton crain
BØGER
funnybooks: improbable glories of the best american comics – michael barrier