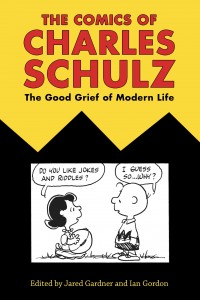 PREVIEWS PLUK FOR JANUAR 2018 
Den er i hardcover. Den er dyr. Den er på 192 sider. Men kun 27 sh illustrationer. Det er den første store akademiske essay samling om "Peanuts", denne den mest betydningsfulde af alle humorstriber, tegnet og skrevet af geniet Charles Schulz, gennem 50 år. 
Nu er der så en paperback udgave på vej af "The Comics of Charles Schulz", på 234 sider, og den koster kun $25. Bogen indgår i serien Critical Approaches to Comics Artists, og er udgivet af University Press of Mississippi. Lige noget for Kloge Åger og nørder med eller uden briller. 
Bevares, der har da været forsøg på studier af Peanuts før, hvem husker ikke den lille paperback, "The Gospel According to Peanuts"? Men ikke noget så omfangsrigt og dybtgående som denne nye bog. Den er et must.
Schulz' inflydelse har været ENORM, og der er masser af gods i dette digre bogværk, hvadenten det er filosofi, psykologi, sociologi, kulturhistorie, eller bare noget så banalt som global fast food. Stof til timers fordybelse og en garanteret bedre forståelse af Schulz' mesterværk, "Peanuts". Jeg har allerede bestilt den, hvad nøler du efter? 
og hermed kridter vi banen for da list:
MARVEL 
invincible iron man #598 – stefano caselli, alex maleev

marvel masterworks: captain america vol.10 hc – jack kirby
DC COMICS 
deadman #5 – neal adams

the flash: the silver age omnibus vol.3 hc – carmine infantino, ross andru, gil kane o.a. 
IDW 
uncle scrooge #36 – daan jippes

superman: the golden age newspaper dailies: 1944-1947 – wayne boring

walt disney's comics and stories vault vol.1 – walt kelly, william van horn o.a.

weird love #23 – various 
CLASSIC COMICS PRESS 
casey ruggles vol.1 hc – warren tufts

the cisco kid by jose luis salinas & rod reed vol.4: 1957-1959 tp
FANTAGRAPHICS BOOKS 
love and rockets vol.IV #5 – gilbert & jaime hernandez 
HERMES PRESS 
johnny hazard: the newspaper dailies vol.6: 1952 – 1954 hc – frank robbins 
TWOMORROWS PUBLISHING 
comic book creator #17 – wally wood

jack kirby collector #74
BOOKS 
the comics of charles schulz: the good grief of modern life sc