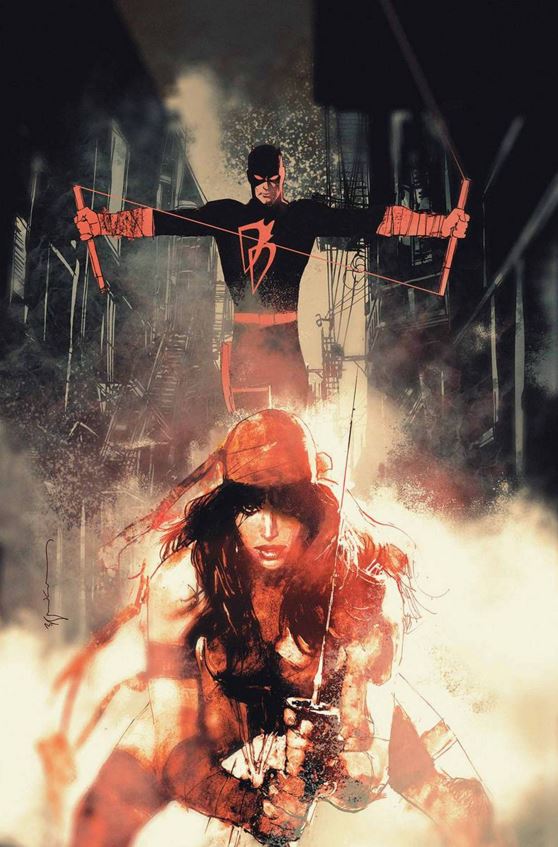 Her i PP koncentrerer vi os fortrinsvis om hæfter, magasiner, og bøger, men en sjælden gang kan jeg godt li' at snige en T-shirt med, eller en plakat, bare for at ryste posen lidt. MEN, det skal ikke være hvadsomhelst, det skal gøre indtryk, være ekceptionelt! De månedlige Marvel plakater plejer at være til at tørre røv i, men sandeligen om ikke februar måned byder på den fedeste Elektra-DD plakat af Bill Sienkiewicz – og jeg, der ikke har mere vægplads, ak! Ja, der er tale om en "return to form" for Sienkiewicz, han tegner sgu' så det ligner! Man føler, at Elektra bliver levende, er gjort af kød og blod, ikke noget udsyret Ralph Steadman halløj her! Sienkiewicz var en af de største tegneserietalenter i 1980'erne, det sés tydeligt i Moon Knight og i New Mutants. Osse i den GN med DD, "Love and War", her havde han stadig jordforbindelse. Men så gik der noget galt for ham, sét med mine øjne, da han skulle tegne miniserien "Elektra Assassin". Det blev vildere og vildere, meget mere udsyret og Ralph Steadman-agtigt, med spidse ekstremer, og forvrængede figurer. Som Sienkiewicz selv tilstår i et online interview på manwithoutfear.com:
Elektra Assassin employed a somewhat wider array of techniques because it tended to be a wilder ride. The DD graphic novel was actually much more restrained because, once the look for each character was established, it was fairly straightforward in its execution. Elektra was all over the place: "realistically" drawn characters interacting with caricatures interacting with cartoons interacting with photocopies interacting with "children's drawings". There were quite a few styles employed, but the determining factor for the choice of style was what the scene demanded. In essence, the scene dictated the style of artwork used, not vice versa.
Det var hér, han tabte mig. Jeg stod af. I de senere år har jeg dog bemærket en mere sober Sienkiewicz, som udnytter sit talent fuldt ud, på en værdig måde. Ikke mindst i motivet til denne nye Marvel plakat. Motivet er også et variant cover til et slaskeblad i denne måned, men det er plakaten, der er interessant!
Og nu videre til den mægtige liste (pust!):
MARVEL

international iron man #2 – alex maleev
marvel masterworks: the incredible hulk vol.10 hc – herb trimpe
avengers epic collection vol.16: under siege tpb – john buscema, steve ditko o.a.
daredevil #6 by sienkiewicz poster
DARK HORSE

archie's pal jughead archives vol.2 hc – bob montana
tarzan: the beckoning tp – thomas yeates
DC COMICS

swamp thing #4 – len wein, kelley jones
superman: the coming of the supermen #3 – neal adams
IDW

loac essentials presents king features vol.1: krazy kat 1934 – george herriman
li'l abner: the complete dailies and color sundays vol.8: 1949-1950 – al capp
haunted love #3 – howard nostrand, mike sekowsky, sheldon moldoff o.a.
popeye classics #45 – bud sagendorf
AC COMICS

men of mystery #100 – powell ,cardy, godwin, mooney o.a.
CANTON STREET PRESS

charlton's nightshade tp – steve ditko, jim aparo
is this tomorrow? (one-shot) – charles schulz
dark mysteries #19 replica – a.c. hollingsworth, hy fleishman
moon girl #3 flashback replica – shelly moldoff
DRAWN & QUARTERLY

mary wept over the feet of jesus hc – chester brown
FANTAGRAPHICS BOOKS

wallace wood presents shattuck – wallace wood
walt disney's donald duck: terror of the beagle boys – carl barks
PS ARTBOOKS

pre-code classics: avon's eerie vol.3 hc – fred kida, wallace wood o.a.
TITAN

garth ennis presents battle classics vol.1 – cam kennedy, mike western
thieves fall out – gore vidal
the wrath of fu-manchu and other stories – sax rohmer
MAGAZINES

comics revue presents april 2016