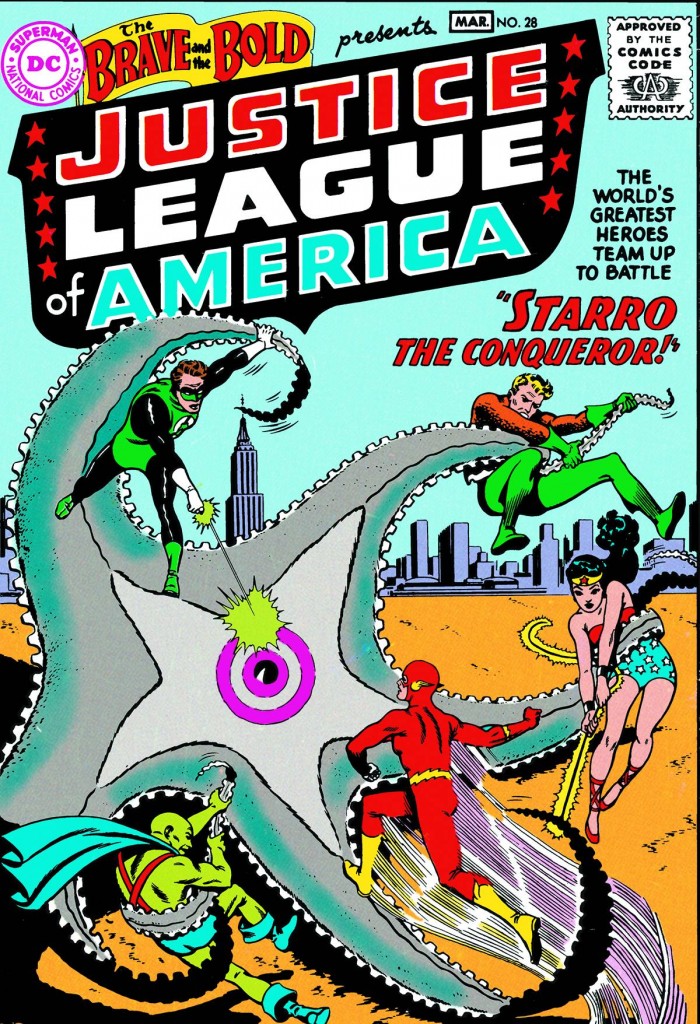 DC Comics, nok så udskældte DC Comics, fortjener ros i denne måned. Nok har de aflivet Archives serien, men i stedet for får vi nu farve tp'er, der både er billigere og tykkere end de savnede Archives. På 328 sider genoptrykker de alt det første silver age JLA, 22 hæfter i alt! Alt sammen for en tyve dollars, rørende billigt, og jeg håber virkelig, denne udgivelse bliver den første af mange. Brave and the Bold, Justice League of America, Mystery in Space, hele pakken er din, din, din! Sekowsky var den primære tegner på JLA de første år, DC's hurtigste tegner, med en altid elegant streg. JLA ansporede Martin Goodman og Stan Lee ovre på Marvel, de ville også have en "team book", og dermed fik vi Fantastic Four #1 i 1961, som blev startskuddet på The Marvel Age! Der er mange ligheder mellem Sekowsky's første JLA forside og så Kirby's FF #1. Grundprincippet er stort sét det samme. Men det er ikke kun i genoptryk, at DC udmærker sig i denne måned. Også en enkelt floppy er værd at investere i, "Swamp Thing" #1, en ny miniserie på seks numre, hvor selve Swampy's skaber, veteran forfatteren Len Wein, vender tilbage til sagaen om Alec Holland's skæbne, 44 år efter at figuren debuterede i House of Secrets #92. Tegner er  Kelley Jones, ikke så tosset et valg, alt taget i betragtning. Så nu er DC Comics igen et forlag, man skal holde øje med.
Og nu til sagen, novembers titler, på gaden i januar:
DARK HORSE

elfquest: the final quest #13 – wendy pini
DC COMICS

swamp thing #1 – len wein og kelley jones
justice league of america: the silver age vol.1 tp – mike sekowsky o.a.
IDW

walt disney's donald duck: the sunday newspaper comics vol.1 – al taliaferro
walt disney's comics & stories #727 – tony strobl
comic book apocalypse: the graphic world of jack kirby
corto maltese: celtic tales – hugo pratt
superman: the atomic age sundays vol.2: 1953-1956 – wayne boring
popeye classics #42 – bud sagendorf
weird love #11 – matt baker o.a.
AC COMICS

men of mystery #99 – bob powell, joe kubert, jerry robinson, o.a.
AMDALE MEDIA LLC
comic fandom quarterly #4 – george perez interview
CANTON STREET PRESS

race for the moon one-shot – jack kirby
teen-age romances #14 – matt baker, carmine infantino
CLASSIC COMICS PRESS

kelly green: the complete collection hc – leonard starr og stan drake
leonard starr's mary perkins on stage vol.15 tp
CLASSICS ILLUSTRATED

classics illustrated #2 – reed crandall, george evans
classics illustrated #5 – george evans
DRAWN & QUARTERLY

walt & skeezix vol.6: 1931-1932 hc – frank king
FANTAGRAPHICS BOOKS

crepax. dracula, frankenstein, and other horror stories – guido crepax
PS ARTBOOKS

roy thomas presents: planet comics vol.14 hc – diverse
TITAN

flash gordon – the dan barry dailies vol.1: the city of ice – dan barry, frank frazetta, harvey kurtzman, jack davis
VANGUARD PRODUCTIONS

the sensuous frazetta hc
wally wood jungle adventures with jim king & animan hc
MAGAZINES

alter ego #138 – harlan ellison
jack kirby collector #67