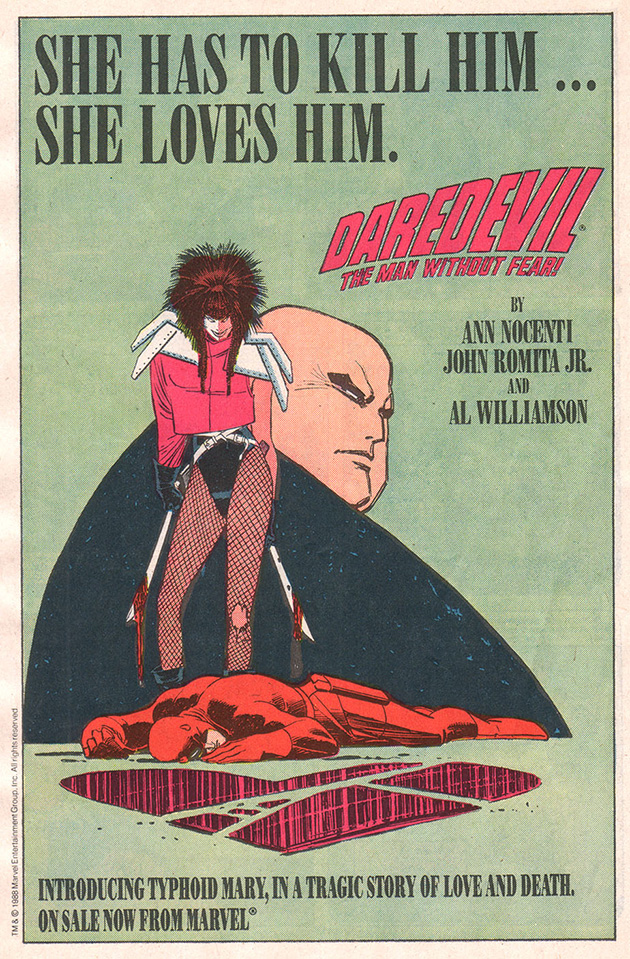 Oktober måned byder vanen tro på godis i lange baner, og som altid skal der prioriteres, skubbes, og helt undværes. Det kan ikke være anderledes, når vi lever i genoptrykkenes guldalder. Marvel's Epic Collection tp'er har jeg nævnt før, de er desværre også trykt på glittet papir ligesom Masterworks, men koster knap det halve, og for senere ting, som ikke behøver indgå i en perlerække af hc'er, er de et kig værd. Således også 13. bind i Daredevil Epic Collection, som genoptrykker noget af det sidste virkelig interessante før seriens sene renæssance. John Romita Jr., da han stadig var interessant, ja, sågar Steve Ditko, er at finde heri! Hele sagaen om Kingpin's psykotiske lejemorder, Typhoid Mary! Kan udmærket huske floppierne fra dengang, men da samlede jeg dem ikke slavisk. Tænkte, jeg kunne indhente, om nødvendigt, og det gør jeg så nu – nemt og bekvemt! JR JR blev aldrig rigtig hot som Mazzuchelli eller endda Maleev, og han har været alt for flittig og fremstår nu om dage som en kold og gold tegner. Typhoid Mary dog, med hendes mange personligheder, en rigtig case study, en "love-maker" og en "man-eater", som Previews udtrykker det. Don't mess with Typhoid Mary… sagaen gik i DD #254-257, og 259-263, og regnes for at være et af højdepunkterne i DD serien.
Og nu skal vi ha' indhentet oktober's godter:
MARVEL

marvel masterworks: captain america vol.8 hc – sal buscema
daredevil epic collection: a touch of typhoid tpb – john romita jr., steve ditko, o.a.
DARK HORSE

groo: friends and foes #12 – sergio aragonés
archie archives vol.12 hc – bob montana
creepy archives vol.23 hc – alfredo alcala, klaus janson, o.a. (på tide at stoppe?)
DC COMICS

batman and superman in world's finest silver age omnibus vol.1 hc – curt swan, dick sprang, o.a.
showcase presents: batman vol.6 tp – neal adams, dick giordano, o.a.
IDW

walt disney's donald duck: the daily newspaper comics vol.2 – al taliaferro
popeye classics #41 – bud sagendorf
complete little orphan annie vol.12 – harold gray
devil tales – don heck, gene colan, dick ayers, bob powell, howard nostrand, o.a.
haunted horror #20 – l.b. cole o.a.
DYNAMITE

vampirella archives vol.13 hc – alex toth, alfredo alcala, esteban maroto, josé gonzalez, o.a.
FANTAGRAPHICS

love and rockets: new stories no.8 – gilbert og jaime hernandez
the life and legend of wallace wood
prince valiant vol.12: 1959-1960 – hal foster
maria m. book 2 – gilbert hernandez
HERMES PRESS

the phantom: the complete sundays vol.3: 1945-1949 hc – ray moore, wilson mccoy
PS ARTBOOKS

pre-code classics: eerie vol.1 hc – fred kida, wally wood, joe kubert, o.a.
roy thomas presents: planet comics vol.13 hc – diverse
TITAN

mandrake the magician – the sundays vol.1 – phil davis
VALIANT

BØGER

the art of ploog hc
walt kelly and pogo: the art of the political swamp sc
MAGAZINES

comics revue presents december 2015